Time for Top 5 Wednesday! Ths event is hosted every week here.
Okay, this is a tag that just screams of ME. I'm just such a sucker for SciFi and fantasy, like I read like three non-fantasy/scifi books last year, two of which were magical realism and one historical. Though be prepared – If you've looked at my blog before, the chance of you recognising any of the named titles are big. Huge. But the statement said favourites!
(Important note: I did not really put them in the order I like them the best, I can't.)
5. The Reckoners Trilogy by Brandon Sanderson
Of course Sanderson is my first mention and of course, this isn't my last. Many fellow Sanderson fans are a bit dissapointed with this series, but I on the other hand loved in. That is because this book has one of my all-time favourite setting/world-building. I'm not kidding, I sometimes get chills when I read it because I just love that world SO much. Of course, I love other aspects of the books but the thing that really made gave this book a whole extra star is the world they're set in. A dystopia ruled by super-villains? Unique and cool super powers? Sign me up.
4. Mistborn Series
Oooh this series has stayed with me since I almost fainted off exhausting after binge-reading the first book. This book series is just full of epic battles, intrigues, plot twists and turns, amazing characters, moments you'll laugh and other you'll cry and GODDAMSDAMMITINEEDTHEFOURTHBOOKWHATTHEHELLSANDERSONDOYOUMEANITWILLBEOUT2018WHATAMISUPPOSEDTODO.
3. The Mapmakers Trilogy by S.E. Grove
Yeah another original pick by me right? No but this series is just so underrated and sometimes I just want to throw this book at people shouting "read the goddam books!". Like the previous entry, this is on my top list of favourite world-buildings. It's a middle-grade/YA book set in a post-apocalyptic world where countries and continents have been flung in different time periods. There's more awesomeness to this world, but I won't tell 'cause it's revealed in the second and third book. Anyway, except for that, this book series include things like; 1. "The girl meets a mysterious boy trope"- but it ends up with a great friendship with no romance at all, 2. The main antagonist is a racist politician who wants to "take back" land from indigenous people and ban immigrants. He is one of my favourite villains because he's just so, freaking, scarily real. 3. Depression is an actual sickness in this world. 4. The second book isn't like other second books in a lot of trilogies that feels like fillers, but has a defining plot of character development and yes I am not ashamed to admit that by the end I was crying so much that my sister felt so bad for me that she promised to buy me the next book. 5. A badass female pirate captain 6. The main character, Sophia is a beautiful cinnamon roll too good for this world, too pure. Sadly, you'll definitely realise it in the second book. *Sobs*. 7. The other main character, Theo, is so witty but also such a pure and loyal friend. Plus, he's native american so thumbs up for representation! 8. Instead of using historical/fantasy setting as an excuse to write women off as inferior to men, the author did quite the opposite and used the setting to make men and women equal. Hell yeah. 9. I can go on, you know, since so few people are talking about this series.
2. ALL BOOKS in Rick Riordan's Universe of Gods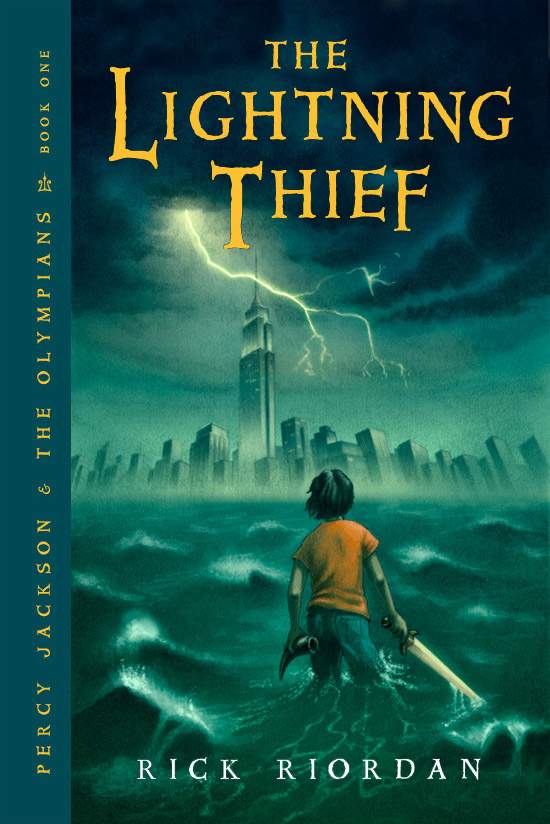 (Yeah I totally snuck in two of the Swedish covers, but honestly, they're cooler)
First I thought of Percy Jackson and the Olympians, since that is the introduction to this universe. But honestly, I love them all equally. I've read all of them and is currently waiting in patience for the next Trial of Apollo book and the last Magnus Chase. And the next after that. And the next. It's just so that Percy Jackson was the introduction book to reading and actually enjoying it after I had been in a book slump for a few years (as mentioned in previous T5W) and I've been obsessed with this world ever since. I'm a huge mythology fan, so this world-building is a DREAM world for me. Plus, I really love the humour in these books (yeah I laugh at everything) and how many of the gods and events are parodied. I've listened to the audio books for all of them actually (except trials of apollo) and I can admitt that there was more than one time I actually burst out laughing on the bus and had to cover it up with coughs.
1. The Stormlight Archive by Brandon Sanderson
Last but definitely not the least – The Stormlight Archive series is definitely a series that will leave you in a book slump because it feels like no other books will ever be able to satisfy you again. It's just… it's filled with so much. Everything, really. Amazing characters and character developments, an intriguing world building, filled with secrets, foreshadowing, plot twists etc. that will leave you baffled. Epic battle scenes, really emotional scenes (like you thought the Katniss and Prim relationship was filled with angst hahaha oh sweet summer child) and interesting magic system (duh, it's Sanderson we're talking about). I read the second book of 1087 pages in four days because I couldn't put it down.