Alright, time to do another Top 5 Wednesday 😀
I'm posting a bit late (at least for me over here in the cold north of Scandinavia) but have been babysitting, so got home late. Buuut this week's theme seems to be "books that would make good video games", and for that I have a confession to make. I've played video games like ten times in my entire life. We don't have one at home, and never had. So I'm terrible. But hey I think I got the idea!
This weekly meme is hosted by Samantha and Lainey over on this Goodreads group.
5. Coraline by Neil Gaiman
This book would make such a good horror video game, the kind of thing you'd play with a friend to scare each other and the end up lying sleepless. What would make it a good video game is because of the fact that Coraline has a mission, a game she plays with the Other Mother which makes the story line great for use of any video or computer games.
4. Illuminae by Amie Kaufman and Jay Kristoff
A race against the clock to avoid hostile spaceship, trying to find your way through a labyrinth of a spaceship while trying to avoid "zombie" like people… there's a lot in this book that'd make an epic Space-themed video game.
3. The Song Of The Shattered Sands by Bradley Beaulieu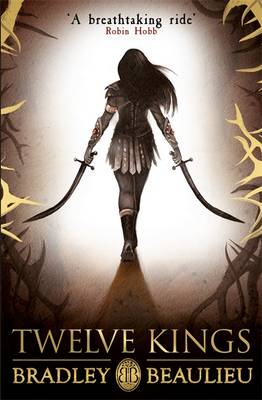 A video game based on this series by Bradley Beaulieu would promise really epic battles, amazing scenery, and plot. Jumping on rooftops, battles in arenas or in the dessert, or in a sea of chaos.
2. The Reckoners by Brandon Sanderson
Me: I should maybe do a book tag or meme without mentioning a Sanderson book for once.
Me to Me: No.
Anyway, this is like a book that was made to be a video game. Why not?! It has like the best settings, amazing battle scenes (not to mention that epic car chase) and guns.
1. -Insert Book Series- by Rick Riordan
Right, so there are currently 5 series in this universe of gods, demigods, magicians, titans, monsters, giants… And how freaking cool wouldn't it be with a video game based on ALL (or any) of these books? There's a bunch of reasons this would make a great video game – bunch of familiar locations but with a twist, lots of battle senarios or different conflicts (trying to find your way through a labyrinth or Hell (in like three of these series) etc. Also you could switch between characters with different cool powers.
Hope you agreed with any of my choices! What books do you think would make great video games? Have you done T5W, don't forget to comment so I can see yours!