Three hurricanes wreck havoc with a devastating earthquake in Mexico, persecutions of Muslims in Myanmar, the Central African Republic's people are forgotten and ignored by the UN, Kim Jong-Un and a third world war has gotten way too real, starvation, Nazis are marching openly in the streets, cops in "the world's most powerful democracy" can openly harass and kill black people without any consequences, global warming. Donald Trump.
A lot of people are worried about the current state of the world. Due to all the horrible news stories that are circulating (social) media, it's only natural to feel angsty. But one must also know that it is absolutely okay to just go offline, we're not supposed to handle this much human suffering.
Here are a few feel-good books that will put your mind on something else;
 I read The Steps Up The Chimney by William Corlett [x] as a child and loved it (and the series), re-listened to it again last year and it's still a charming story. This is a middle-grader novel you'll love if you love the tropes of old mansions, supernatural powers/magic and talking animals.
Ella Minnow Pea by Mark Dunn [x] is the kind of short-novel you can read in one sitting. It begins with a very old and exaggerated language, but as letters are being banned, this book just becomes more and more hilarious until I burst out laughing near the end.
Howl's Moving Castle by Dianne Wynne Jones [x] will probably forever stay as one of my favorite feel-good books. It's a wonderful and entertaining story that I think everyone should read at least once.
While we're talking about something everyone should read at least once, The Hitchhiker's Guide To The Galaxy by Douglas Adams [x] fits this perfectly. Just completely weird and hilarious, it is bound to keep your mind off the bad things.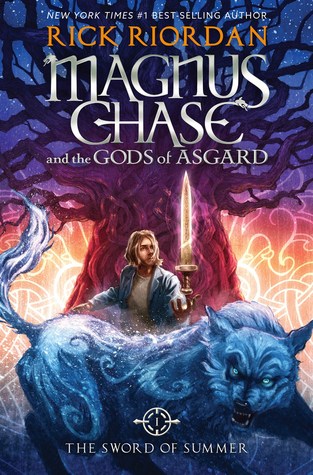 A must read if you love Percy Jackson, The Sword of Summer by Rick Riordan [x], the first in his ongoing series Magnus Chase and The Gods of Asgard is a cute and fun adventure with a two demigod teens, a dwarf and an elf who goes on a journey to find the sword of summer and make sure that Loki's offspring Fenris stays bound. Would have added his other ongoing series, The Trials Of Apollo, had it not bee for the fact that the villain, being a corrupt evil business owner who wants to take over the world, is way too real.
Seeing as we already are on the topic of norse mythology, Neil Gaiman's Odd and The Frost Giants [x] is definitely the book for you if you want a quick and charming story. Perfect to cuddle up with now during the coming winter-halfyear (or if you have an English word for it?).
Matilda by Roald Dahl [x] have most of you maybe already read (in school), but if not, I highly recommend you this read for any day you need a little nostalgia and hope for humanity.
Peter Pan by J.M. Barrie [x] is another must-read children's classic for any bad day. And I know how the book is supposed to argue about why it's important to grow up, it still won't stop me and many other adults to argue that Peter was right – I want to be a child again with no fear for the future.
As we're already on children's classics, why not mention some more? The Lion, The Witch And The Wardrobe by C.S. Lewis [x] is such a magical feel-good book that it'll definitely put your mind on something else. Just don't open the closet afterward, I tried and you're bound to be disappointed.
And now for something completely different. The Rook by Daniel O'Malley [x] is equally hilarious as it is intriguing, wonderful book to light up an otherwise negative outlook on the modern day world. I mean, a secret agency to deal with supernatural threat? Maybe doesn't sound like such an original concept, but trust me on this one, you don't want to miss this book.
Last but not least, who could think that a book about the apocalypse could be a feel-good, especially considering all that's happening in this world? But no, Good Omens by Terry Pratchett and Neil Gaiman [x] is a wonderfully hilarious read that'll make you feel pretty okay about a possible Armageddon.
***
Well, those were some of my recommendations! Feel free to add your own recommendations in the commentary field or share your opinion on any of the mentioned (did you agree/not agree? Why?).
And look, the world might seem shitty but remember all those coming books this autumn, winter, coming years…