So, Time to do a monthly wrap up. This is my first wrap-up, so let's see how it goes!
Books I've Read This Month;
Coraline by Neil Gaiman
Nothern Lights by Philip Pullman
The Subtle Knife Philip Pullman
Blood Upon The Sand by Bradley Beaulieu
The Graveyard Book by Neil Gaiman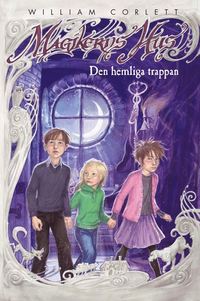 Magikerns Hus – Den Hemliga Trappan (Original Title; The Magician's House – The Steps Up The Chimney) by William Corlett
MH – Dörren i trädet (Original Title; The Door in The Tree) by William Corlett
Ship of Magic by Robin Hobb
The Magician's Nephew by C.S. Lewis
The Lion, The Witch and The Wardrobe by C.S. Lewis
The Picture of Dorian Gray by Oscar Wilde
Ella Minnow Pea by Mark Dunn
***
All right! Been quite a successful read this month. You might notice that like 8 of these books are middle-grade (+) fiction, and there's actually a very good reason for that. This month I had my exams for two courses so I was very very anxious about them (and my future), plus the fact that I turned 19 this month as well, made me hide behind those books in an attempt to hide from responsibility.
But due to exams and so I did not have much time on writing reviews, which I hope to improve next month. I actually wrote a literary analysis on The Picture Of Dorian Gray which I might post here soon 🙂
The Best Book Of The Month were no doubt Ship of Magic by Robin Hobb (read the review here.), and I'm gonna buy the sequel tomorrow (I hope) so am really looking forward to that!
But I really loved the Narnia books (haven't read them before!), I listened to the audio books which I highly recommend. I love the movie Coraline so really enjoyed the book, but this was actually one of those few cases where the movie is better than the book (though the book was not bad). The other Gaiman book I read, The Graveyard Book, was just as weird and unique as you could expect from him. A really great read!
I also started reading His Dark Materials – series by Philip Pullman which I've enjoyed, and am currently on the last book. Sadly I got a bit stuck due to the exams was then, but hope to finish it by the beginning of April! I will do a full review of the series as a whole then I plan 🙂
Right, if you have any questions about any of the books or so, don't hesitate to ask in the comments! Or if you just want to hype about one of the books 😀 ❤